Ways you can recycle at Whiteley
Whiteley is supporting local shoppers with a series of ways to recycle at the centre's retailers, from clothes and shoes to beauty packaging – sometimes with the chance to receive vouchers in return.
Recycle Week is an annual event that celebrates recycling across the nation with the aim to get more people recycling more of the right things, more often.
Mia Gordon, centre director at Whiteley, said:
"Supporting the community is extremely important to us at Whiteley, and doing our bit for the environment is a huge part of that. As a centre, we are committed to working towards a more sustainable future and we want to encourage our visitors to do the same. "We hope by highlighting these great initiatives offered by our retailers we help to make recycling even easier for local shoppers – not just during this week, but beyond that too."
Here are some of the recycling schemes you can make the most of at Whiteley:
H&M – Lets Close the Loop
Through H&M's Garment Collecting programme, you can take any unwanted clothes or textiles – from any brand and in any condition – to the Whiteley store and receive a £5 digital voucher to use on your next purchase, as well as earn 20 'Conscious Points' as part of its loyalty scheme.
1. Take any unwanted clothes or textiles, by any brand and in any condition, to one of our stores.
2. Hand in your bag of old clothes at the cash desk and receive a thank you voucher to use towards your next purchase. Easy!
Once you've dropped off your previously loved fashion in one of our garment collecting boxes, our business partner takes over. They empty the boxes and sort the contents into three categories:
Rewear: Wearable clothes are marketed as second-hand clothing.
Reuse: If the clothes or textiles are not suitable for rewear they're turned into other products, such as remake collections or cleaning cloths.
Recycle: All other clothes and textiles are shredded into textile fibres and used to make for example insulation materials.
More info
schuh – Sell your Soles
Want £5 off* new shoes? Of course you do!
Our Sell Your Soles scheme is back (in an even safer way)! Bring down your old, worn shoes and we'll give you £5 off your brand new pair. All stores have been provided with trays that we ask that you place your worn shoes onto to reduce the risk for staff due to COVID-19. These will then be taken in the tray and tipped into the relevant carton within our stockroom without our shoe-selling stars touching them. Let's stay safe, sustainable and keep it schuh.
More info
M&S
The 'Plastic Recycling Scheme' from M&S helps customers to recycle plastic from any product in-store, regardless of whether it is an M&S product.
Carrier bags, food wrappers and packaging from clothing multipacks are just some of the items which can be recycled at the Whiteley store that are difficult to do so at home.
M&S – Let's Shwop for Oxfam
Donate your pre-loved M&S school uniform to Oxfam in store at M&S and receive 20% off kids' daywear* with Sparks.
Donating your pre-loved school uniform via our Back To School Shwopping Scheme helps others in more ways than one. Items go to Oxfam, which sells your pre-loved school uniform to raise vital funds to help fight for an equal future without poverty. Oxfam will also be working with eBay to launch a dedicated pre-loved schoolwear eBay shop to make finding affordable, good-quality uniform easy, no matter where you live. This allows families to buy our superior-quality school uniform at greatly reduced prices, while giving clothes a useful second life.
More info
Boots
Recycle at Boots – Take care of yourself and the planet
Together with No7, we're doing our bit to help keep our planet beautiful. That's why we created our Recycle at Boots scheme where you can bring your empty beauty, health, wellness and dental products, from any brand, that can't be recycled at home.
You can recycle some of your empties in your own recycling bin, but the Recycle at Boots scheme will take care of the empties that you can't recycle at home.
When you visit one of our participating stores and bring five empty products to one of the in-store recycle bins, we'll give you a total of 500 Boots Advantage Card points when you spend £10 or more – that's worth £5 (see coupon T&Cs here – offer 32). We'll also track how many empties you bring back so you can see the positive impact you're making to the planet.
More info
The Body Shop – Return, Recycle, Repeat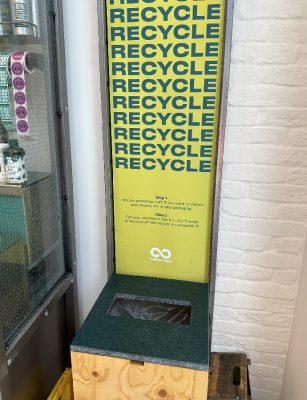 We need to do more to reduce out waste within the beauty industry. Here's how you can help using our Return, Recycle, Repeat scheme.
Step 1: Empty, clean and dry and beauty packaging, bottles, pipettes, pumps, mascaras and lip glosses as much as possible.
Step 2: Bring them into store and pop them in one of our return bins.
Step 3: We'll make sure they're recycled or repurposed and given another life through our UK partners Scan2Recycle, MYGroup and ReWorked.
More info
6. Superdrug – Makeup Not Make Waste
Bring your finished foundations, unloved liners and past-it palettes to our in-store recycling stations. We're partnering with Terracycle to recycle all your make-up – not just ours. We can't bring about change without you.
More info
7. River Island Takeback Scheme
River Island have launched their TakeBack scheme in partnership with Reskinned, they'll find your unwanted clothes a new home by re-selling, repurposing, or recycling them.
You'll get a £5 voucher for your next River Island shop, as a little thank you!
To take part, you need a minimum of three items from any brand, which you can drop off at boxes at 200+ stores nationwide, or organise a courier drop-off online (don't worry, they'll pay for posting).
For each donation of three items, they'll give you a £5 gift voucher for you to redeem off a £40 shop, valid for one month. T&Cs apply.
More info
8.Mamas & Papas – Loved for Life – Refresh, Reuse, Recycle
Take-Back Scheme – Conveniently donate your pre-loved baby and children's clothing, shoes and nursery items, by taking them to a participating Mamas & Papas store. They'll then be given a new lease of life – either re-sold in an Oxfam store or taken away to be responsibly recycled.
Trade-In Scheme – Trade-in your Mamas & Papas pushchair and receive Mamas & Papas vouchers. Your pushchair will be restored, refreshed and sold on to another family to love.
More info
9 Pets Corner – Recycle your bags here
We're cleaning up the pet industry. Recycle your pet food bags in store at Pets Corner Whiteley.
At Pets Corner, we're passionate about reducing our environmental impact. We're proud to say that over 75% of our dry food packaging is now recyclable, and we're committed to reaching 100%. We're also working with Clean Up Britain to make our country a greener place.
Find out more
Last updated Tuesday 5 September, 2023